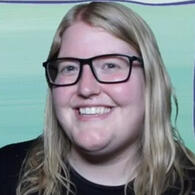 Sammie Crowley
Writer
---
Sammie Crowley is an Emmy-award winning television writer specializing in animation. Growing up in Wisconsin in a large blended family with half and step-siblings, Sammie got her start in comedy shouting punch-lines of Garfield comic strips from the back row of the van. After a childhood of making home movies she attended Columbia College Chicago and received a BA in Television Writing.Upon moving to Los Angeles, Sammie worked various industry-adjacent jobs before landing at The Loud House where she was a staff writer on over 150 episodes. She then went to Disney TVA and joined the staff of The Ghost and Molly McGee. Sammie's favorite genres are science-fiction, fantasy and comedy. She loves to write for and about complex women/girls, gamers, outcasts, characters from unconventional family structures and LGBTQ+ characters.
---
---
Sammie's currently the Associate Story Editor on Disney's The Ghost and Molly McGee. Previously, she wrote on four seasons of Nickelodeon's The Loud House. Additionally, she's written for My Little Pony: Friendship is Magic, DC Super Hero Girls and Rise of the Teenage Mutant Ninja Turtles. She's also worked on a variety of development projects at Nickelodeon, Disney and Cartoon Network.
---
---
---
© Sammie Crowley. All rights reserved.